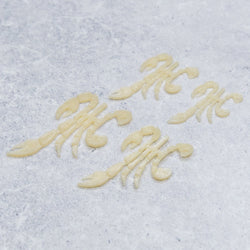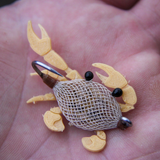 Flats Craft
Flats Craft Mutineer (Fleeing Crab) Legs - Natural
5 per pack
Natural Color
X-Small, Small, Medium and Large
The fleeing crab design enables you, the angler to strip your crab fly in a natural fashion when you need too. The large prominent realistic claw trailing the fly is a huge trigger point for fish to identify this prey item as a crab, which arguably will reduce hesitation and a faster reaction bite. The design enhances what we already know abut how this style of legs travel through the air and the water... Landing hook point up and a fly that cuts through the wind is no problem for the Mutineer design. 
The Mutineer has a tying tab which enables easy lashing to the hook shank... important for fish like permit which will make short work of materials simply glued on. 
This design is exclusive to Beast Brushes. Designed and manufactured here at Beast Brushes and as of January 2023, no one has copied it yet..... ; )
The Mutineer lends itself to surface, slow sinking and floating presentations. The materials is flexible and your thread will not cut it. The material also accepts marker pens, glue (E6000) and high quality resin (RaidZap) really well. 
Sold in packs of 5 and available in XSmall, Small, Medium and Large. 
Extra Small - 5 per pack ( Suites Hook size 6 Ahrex SA220, Size 4 SA254 )
Small - 5 per pack ( Suites Hook size 4 Ahrex SA220, Size 42SA254 )
Medium - 5 per pack ( Suites Hook size 2 Ahrex SA220, Size 1 SA254)
Large - 5 per pack ( Suites Hook size 1 Ahrex SA220, Size 1/0 SA254 )
Learn to tie here - https://youtu.be/y9dyPlH4DwQ?si=s-slDeL9pzASDtPM