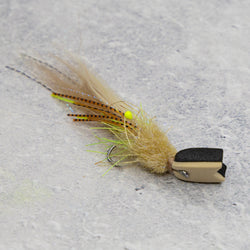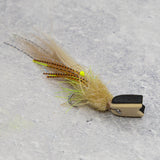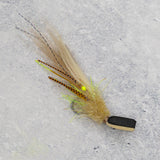 Sipper Shrimp - Tan/Chartreuse
After the release of our Sipper Baitfish we knew we had to make a shrimp version.  Same concept and action but with a shrimpy profile, hot spot eyes and as many legs as we could fit. This thing has crazy good movement.
A surface / subsurface pattern intended to retrieve slow with short strip movement allowing the fly to push a small wake. Tied with all high movement fibers giving the fly more wiggle . Snook , trout , tarpon, redfish and more.

- Price is for 1 fly
-Built on an Ahrex SA250 Size 4 Shrimp Hook
- Approx. 4.25" total length