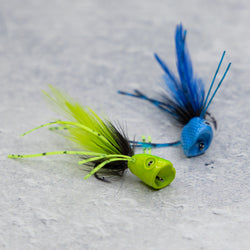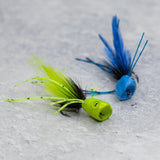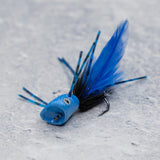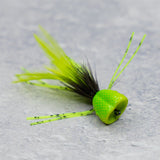 Surface Seducer DB Bass Bug Popper
Size 6 Hook
The Double Barrel Bass Bug is a no-nonsense popper fly designed with one thing in mind – generating a massive POP to trigger attacks from predatory fish!
Say goodbye to fragile poppers with hard epoxy finishes and hello to the "soft-bite" Bass Bug. The most important thing we've done to take the Bass Bug to the next level is completely eliminating hard epoxy in exchange for a flexible epoxy that can take strike after strike without breaking or cracking.
Powerful popping action
The deep front cup and extended top lip of the foam Surface Seducer Double Barrel head allow you to effortlessly trigger loud pops with strong splashes when working your fly.
Designed to take a beating
The Double Barrel head is made of durable soft EVA closed-cell foam, which means you don't have to worry about it getting saturated with water. Simply put, this is a popper meant to catch fish over and over and over again (as long as you don't break off on a monster and lose your fly).
Lightweight & castable
The Bass Bug cannot become waterlogged, which keeps your popper light and easy to cast.